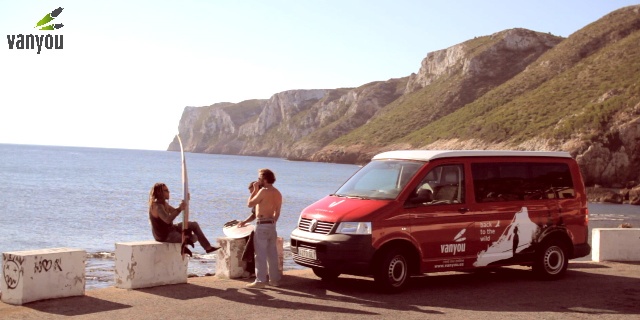 Join us in a Vanyou to explore every corner of the Costa Blanca. We will enjoy its beaches, but we will also go on excursions, we will take you aboard our van to magical corners. We start in Dénia!
Key points
Distance from Valencia: 105 km - 1:15 h
Best time of year: any season, but to enjoy bathing better in spring and summer.
Recommended length of stay: 2 days
For sleeping: park4night. Camping Los Pinos, camping Los Patos, camping Los Llanos
Just 1 hour away from Valencia and now that the AP7 is toll-free , there are no more excuses for not going there. If you only have two days, it is an ideal destination because of how much it offers you. If you travel with children, do not hesitate. And if you travel with your partner or friends, what are you waiting for?
If you have more than three days, you can combine the visit to Dénia with other places on the Costa Blanca or you can also go further inland and visit La Vall de Laguar (you have an entry on our blog).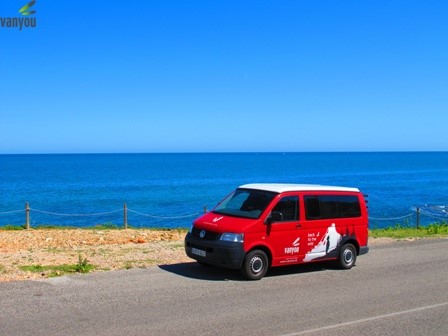 The Costa Blanca is the tourist name that the Mediterranean coast of the province of Alicante is known by. Situated between the towns of Dénia and Pilar de la Horadada it has 244 km of sandy beaches, beautiful coves and spectacular cliffs. The towns that compose it are Dénia, Xàbia, Benitatxell, Teulada-Moraira, Benissa, Calpe, Altea, Alfàs del Pi, Benidorm, Finestrat, La Vila Joiosa, Campello, Alacant, Elx, Sant Pola, Guardamar del Segura, Torrevella, Orihuela Costa and Pilar de la Horadada.
Dénia is the first town on the Costa Blanca from the north and is the capital of the Marina Alta region. From the Racons river to the Cabo de San Antoni, Dénia has a lot to show you. So let's go there!
We start with the beaches. Dénia has two clearly differentiated beach areas. From the north to Marineta Casiana beach you will find sandy beaches. And from here to the south, rocky beaches. Let's start!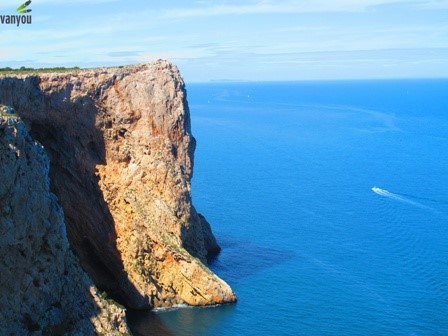 Les Deveses: located in the north of Les Marines, it is almost five kilometres long. It starts at the Racons river and is the point where the Costa Blanca begins. It is an almost virgin beach of golden sand with some remaining dunes. If you are a windsurf and / or kitesurf lover, this is your beach. In addition, it has an authorized and marked area for you to do these sports. The time of the best winds is from May to September thanks to the Garbí and Llebeig.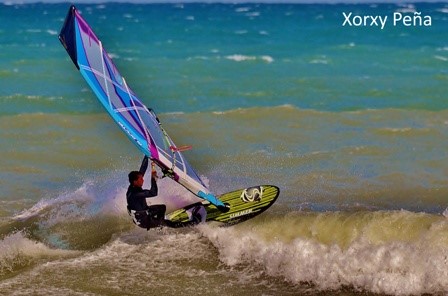 Almadrava: a stone pebble and sandy beach at the end of Les Marines, where the Girona river flows into the sea There are almost three kilometres of beach with transparent waters , which makes it one of our essentials. Family atmosphere.
Punta de l´Estanyó: further along, after the mouth of the Girona river, this beach of just over a kilometre is a semi-urban beach.
Beach and Punta del Molins: almost three kilometres of beach, it is not one of the most crowded and has a blue flag.
Les Bovetes beach: with a blue flag and almost two kilometres in length, it is one of the most visited.
Playa de les Marines: almost two kilometres long, its main characteristic is that of having calm waters.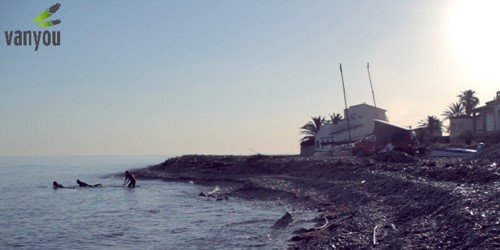 Punta del Rasset: half a kilometre of semi-urban beach, the closest to the town, as it borders the port of Dénia.
Marineta Casiana beach: it is located on the other side of the Dénia marina and has calm waters thanks to its small bay shape, but it is somewhat muddy.
Playa del Trampolí: the second beach of our essentials. We have already left the area of ​​les Marines and the sandy beaches to reach the area of ​​les Rotes. Here the rocky beaches begin. The Trampolí beach, as its name indicates, has a springboard for jumping into the sea. Located within the Cabo de San Antonio Marine Reserve, it is ideal for snorkeling. You can also go diving, but it is limited and you have to ask for a permit at the Territorial Directorate of Agriculture, Fishing, Food and Water of Alicante (Tel. 012/963 866 000).
Punta Negra Beach: very close to the Trampolí beach and very similar rocks. It is another of our essentials. Like the previous one, its crystalline waters stand out. If you want to go diving, you must also request permission.
Playa de les Arenetes: in the list of our essentials. You need to know that this beach is nudist. Also known as "the end of les Rotes", it is one of the most spectacular places overlooking Cap de Sant Antoni. It is a small beach, barely 300 metres long, reached by stairs, which suffers from some overcrowding in the summer months. You must ask permission if you want to go diving.
We invite you to walk along the Les Rotes pedestrian promenade. This walk begins at the beach of Marineta Casiana and goes to the end of les Rotes, passing by all the essential beaches that you should not miss. You can walk, cycle and enjoy the views of the sea. You can also go with the van. In this area of ​​les Rotes it is more than advisable to wear rock shoes to go on the beaches.
How about another excursion ?
Les Rotes viewpoint and Torre del Gerro. We invite you to walk along the Les Rotes pedestrian promenade. This walk begins at the Marineta Casiana beach, at the roundabout of the southern breakwater, and ends at les Rotes, passing by all the beaches that you should not miss. You can explore it on foot or by bicycle and enjoy the wonderful views of the sea. This tour or excursion is suitable for all ages, it does not present any difficulties. The route is 5 kilometres one way. It takess approximately 1 hour and 40 minutes if you do it on foot. And about 40 minutes, if you do it by bike. The Gerro tower, visible from the promenade, is a 16th century watchtower and was used to prevent forays by Berber pirates. The last kilometre of the path with just 150 meters of unevenness, is the climb to the tower. Before going up to the tower you can go and see the Mirador de les Rotes. From both sites you will have spectacular views of the Cabo de San Antonio, the beaches of Les Rotes and the bay of Dénia.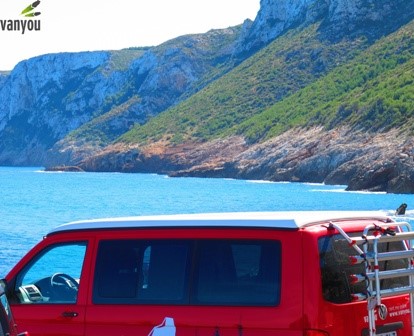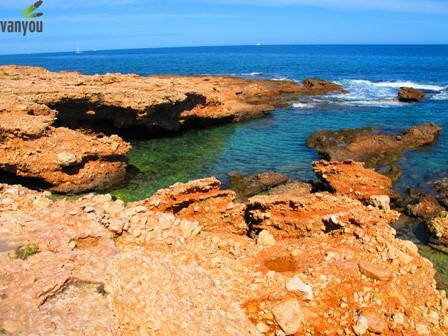 If you don't want to walk the 5 kilometres, you can always park the van at the end of the les Rotes road, which is a dead end, and has a few parking spaces. From here, the distance to the Les Rotes viewpoint and the Torre del Gerro is one kilometre, about a 15-minute walk.
Cova Tallada: it is a spectacular cave carved at sea level. In recent years, it has become massive, so access has been limited in the high season and requires prior reservation. However, access from the end of September to mid-June is free. We can start the route from the Marineta Casiana, as in the previous route, or park at the end of the road in Les Rotes, where we will see a sign for the PR-CV355 trail. This route is not suitable for everyone, the arrival at the cave is delicate, but the path to the cave gives you incredible views. If you go in summer you can enjoy a swim. Be very careful when going down to the cave: there is an access, but it is from overhead. If you are lucky and the sea is calm, it is possible to access from the sea side and avoid the descent. What is inside this cave? It is a magical place, full of stories and mysteries. It is all carved inside, since from the Muslim era the rough stone, typical of buildings in this area such as the church of San Bartolomé de Xàbia or the castle of Dénia was extracted from it. In addition, it served as a marine refuge during World War II. Enter the cave and explore it. The cave has quite a few passageways and rooms. You will be able to discover the marks that remain in the rock of the quarry. There are also pools that collect filtered water from the mountain. Do not forget to bring sunscreen, water, food, a flashlight, rock shoes, goggles and snorkeling equipment.
PR-CV355 trail from Les Rotes to Xàbia. This trail can be done from Dénia or from Xàbia. Keep in mind that it is a trip there and back, it is not circular. The path passes through Les Planes, a plain on the cliffs of Cabo de San Antonio. In this area it is worth highlighting "Els Molins de la Plana" where you can already see incredible views of Xàbia. This route is already more demanding, we do not recommend it for all publics nor do we recommend it in summer.
Dénia Ghost Town: not far from the Torre del Gerro, you can visit the so-called Dénia Ghost Town, one more example of tourist aberrations. In the eighties, the construction of the El Greco estate, located in Lloma del Castanyar, was planned, with more than 500 single-family homes. Thanks to the declaration of Montgó as a Natural Park, construction was able to be stopped due to the lack of legality of the license. More than 100 houses were built and today they are still standing, despite the fact that they should have been demolished. This reminds us of other cases, such as the Algarrobico, in Almería. The visit is somewhat curious, inside the houses there are some really impressive graffiti. The views from the estate are truly impressive, with the Montgó as a backdrop and views of the Mediterranean Sea. Here is the location: https://goo.gl/maps/yKrbgLNQeppK72XB6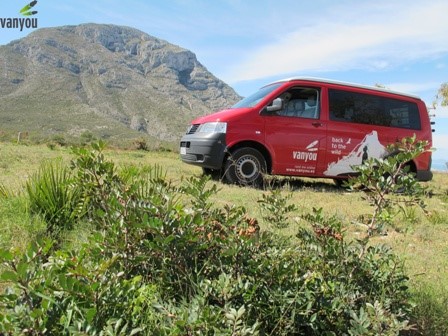 Montgó Natural Park: we recommend a visit to the Dénia Tourism Office, where they will provide you with all kinds of information about the park. There is also an interpretation center. To follow any route through the park it is essential that you bring a sufficient quantity of water and that you protect yourself from the sun. It is important that you wear good footwear. There are different routes of different difficulties.We recommend you visit some of the many caves in the park:

Cova del Camell / Gamell: the trail starts at the hermitage of Pare Pere (worth seeing), a distance of 5.5 kilometres (one way), with low difficulty, with 100 meters of slope which can be done at on foot in about 2 hours or by bike, about 40 minutes. On the path you will have magnificent views of Dénia and its castle, as well as the Gulf of València and on clear days you can see Ibiza and, hopefully, Mallorca.
Cova de l´Aigua-Racó del Bou: a circular route, which also starts at the Hermitage del Pare Pere, approximately 5.5 kilometres , with a slope of 350 metres and takes approximately 3 hours.
Cruz de Dénia: again from the Hermitage del Pare Pere, this route is about 5 kilometres (one way), but it has 600 meters of slope in altitude and takes approximately 3 hours and 15 minutes. We do not recommend it for all publics. You can also get to the Cruz de Xàbia. Arriving at La Creueta on a clear day can be fascinating, as you will be able to see Ibiza and, hopefully, Mallorca. We recommend it.
Cim del Montgo: this circular route, the most demanding of all, is 14 kilometres long, starting at the Hermitage del Pare Pere and 650 metres of slope, it will take you about 6h 30 minutes. The route passes through the top of Montgó, where the geodesic vertex is located and you can admire unique views of the Mediterranean Sea, beaches, mountains, valleys, towns, you will see the Peñón d´Ifach, the bay of Xàbia. You will go around this imposing rocky massif, which will not leave you indifferent.
 After bathing at the beaches, been windsurfing or walking, how about us now taking a cultural and gastronomic route? In Dénia there are many places to visit, but without a doubt you should not miss a visit to the Castle, tour the old town and the port area. Do not miss the Les Roques neighborhood and its pedestrian streets, which are within the castle walls.
As for gastronomy, you have surely heard of the famous Dénia red shrimp and also its exorbitant price. Declared by UNESCO as a Creative City of Gastronomy, Dénia offers a wide variety of restaurants, Michelin stars, where the products of the vegetable garden are fused with those of the sea. Highlights include sea urchins, dried octopus, arròs a banda ... Some restaurants:
El baret de Miquel (with Michelin stars)

Primera Línea
La Seu
L'Estanyó
 Overnight Stay: Unfortunately, there are currently no camper lots in the area, but several campsites.
Camping Los Patos, in les Deveses

Camping Los Llanos, in les Deveses
Camping Los Pinos, in les Rotes
El Raset MunicipalCar Park, port area, € 12
 We also suggest some parking spaces:
 Car park by the marina area on the breakwater, near Marineta Casiana beach.

 There is a parking lot between the Helios and Pegoli restaurant, in les Rotes.
On the beach of les Deveses.
At the end of Calle Partida Platja Almadrava CI-20 there is an esplanade facing the sea, Playa de l´Almadrava.
At the end of Riu Sant Miquel street there is a parking area facing the sea, on the Vergel-Almadrava beach.
At the end of calle llac Hurom there is a parking area facing the sea, l´Estanyo beach.
On the Trampolí beach.
Cabo de San Antonio Car parks before reaching the Lighthouse.
We ask you please, as always, to be respectful of the environment you visit, do not leave a trace, take all the waste you generate.
We wanted to summarize what we believe is essential in your visit to Dénia, but obviously there is much more, so discover it and tell us about it on the way back!
Beach, mountains, gastronomy, history, Dénia is undoubtedly one of those places to discover or revisit and what better way than to do it aboard your Vanyou.