---
Welcome to Vanyou
Valencia | Mallorca | Madrid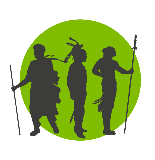 Three available locations in Spain
Find us in Valencia, Mallorca and Madrid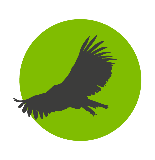 Reliable vehicles
Our fleet consists of Volkswagen Transporter T5 and T6 vehicles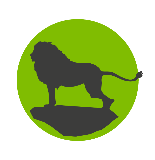 Travel stress free
We offer you different options of insurance at all risks with or without insurance excess.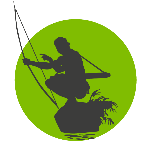 Expert advice
Ideas, tips and tricks to help you plan your trip
---
Discover
Vanyou
Easy and fun
Our campervans are as easy to drive as a private car.
You choose the destination and as these are your holidays, access nature to enjoy your favourite sport, visit charming places and cities, have fun with your friends, share new experiences with your partner, relax with your family outdoors or live your own adventure alone.
Everything you need goes with you.
The equipment includes a portable oven, cutlery, fridge, water tank, campsite furniture, etc.
At night, turn your campervan into comfortable accommodation with autonomous heating in winter.
A different way of travelling
Experience wonderful sunsets, watch the stars, listen to the sound of the waves, wake up with the first sunrays, let yourself be surrounded by mountains…
Discover another way to travel in complete harmony with nature. Get rid of the unnecessary and return to the wild!
All your trips fit in Vanyou!
---
Three campervan formats
Find the most adequate for your needs
VANYOU LITE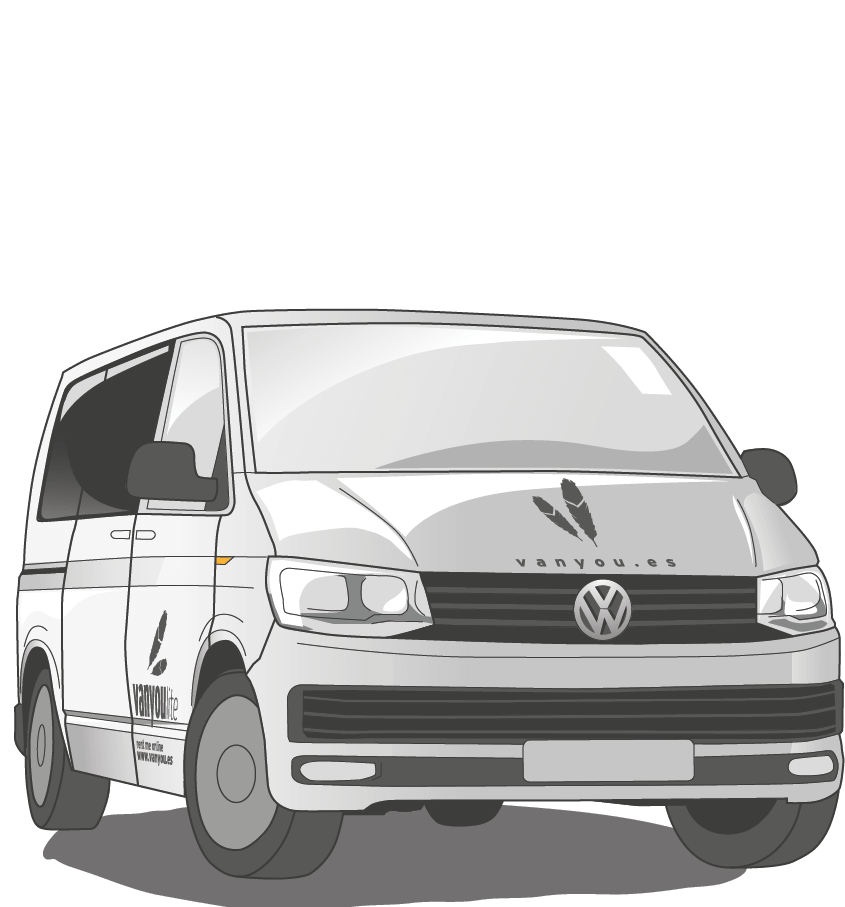 2/3 Travel seats
1 Double bed
18 liters fridge
Equipment for 2 people
VANYOU STANDARD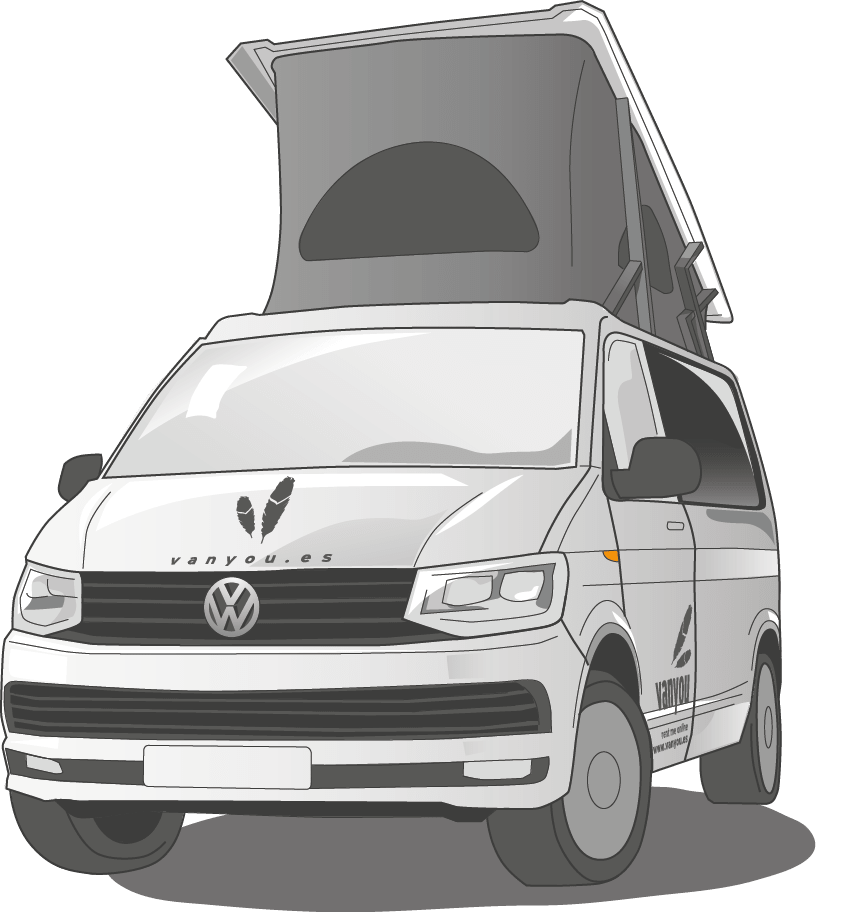 4/5 Travel seats
2 Double beds
18 liters fridge
Pop up roof
Equipment for 4 people
VANYOU ULTIMATE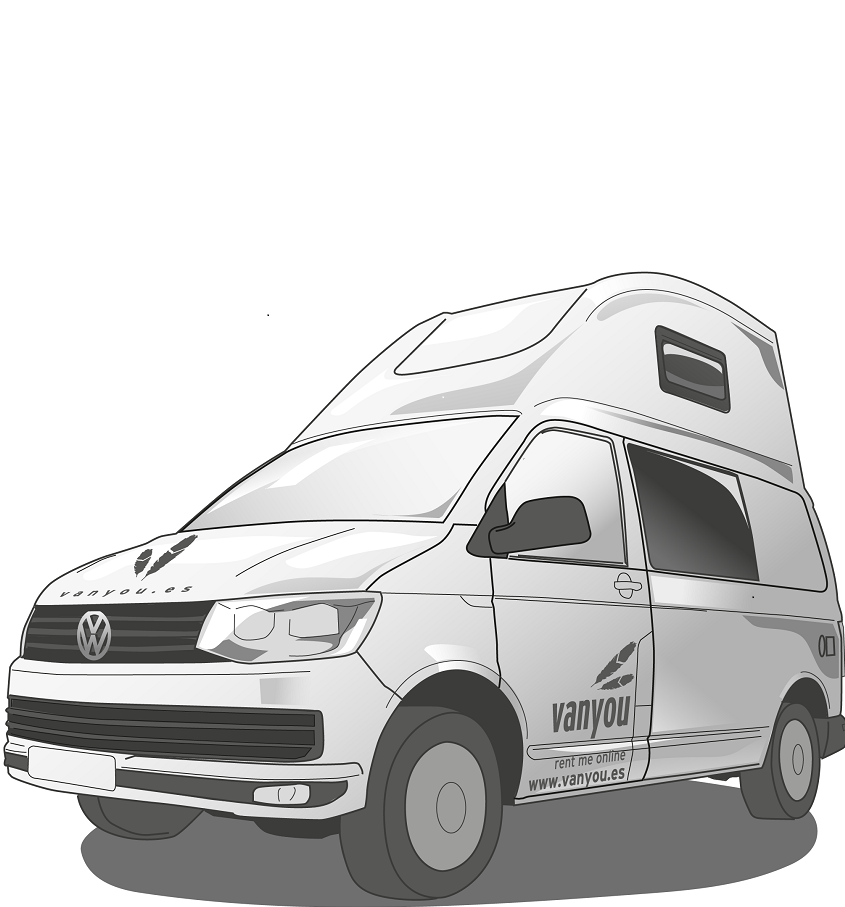 4/5 Travel seats
2 Double beds
Elevated roof
50 liters fridge
Built in sink
Equipment for 4 people
---
Waiting for you in three unique locations in Spain
Choose your destination
Mallorca team were incredibly helpful and went out of their way to make it a great trip. The van was amazingly well laid out and was a great home from home for a climbing trip. Much love

Adam
Very well equiped camper with two passionate owners. Built in all themselves! We liked the experience of travelling with a camper a lot!! Thanx!

Rosan
We spend ±3 weeks travelling with 'Mohawk' from Valencia to Granada and around the coast in between, with 2 little kids (1 and 3 yrs old). We had a lovely time! The van is in excellent state, and you can clearly see it is owned by somebody who has travelled with these vans themselves a lot: everything you need is on board, and placed quite handily. It took some time to get into the rhythm with two little kids, but once you have figured out your best sleeping configuration, you are set: we also rented a tent with Paula where our youngest could sleep, and the eldest slept in the top tent. If you want to have both kids sleep up top, you need to make sure to have a bit bigger net to prevent children from climbing out. All in all it was a very good way to enjoy your holidays in Spain, and Paula is very helpful and friendly. She is very accurate and quick in communication and is helping with thinking about solutions or providing tips.

Gjalt
Abbiamo trascorso 6 giorni stupendi a bordo di Tiwi, la furgoneta lite con 2 posti letto. Il mezzo è equipaggiato con tutto ciò che serve! Ci è bastato il bagaglio a mano... il resto lo abbiamo trovato in dotazione! Per noi era il primo viaggio in camper e ne siamo rimasti entusiasmati. Il mezzo è facile da guidare anche in città e lo si può parcheggiare ovunque. Un modo di viaggiare veramente divertente e che ci ha permesso di scoprire anche luoghi della Spagna spettacolari, fuori dalla classiche mete turistiche. Paula e Chema sono molto disponibili, ci hanno dato consigli utili e sono sempre stati reperibili per qualsiasi evenienza. Consigliatissimo!!!

Silvia
I rented a lite van for 10 days in May 2016 to go climbing in chulilla. Vanyou provided excellent service, flexible with the dates and very kind from the beginning! Nice people! They picked me up at the airport after my flight from Zürich, showed me everything on the car and gave me insider tips for nice places to stay and eat in Valencia etc.. They lend me the climbing guide for chulilla. The car had everything inside I needed for my climbing trip, chairs, table, cookers, water, dishes, heater etc. so I had perfect days! Thanx Paula!

Manne
We were two couples travelling with "our" van Masai for five days going to Chulilla on a climbing trip in November. We had a fantastic time! Paula is the sweetest person and we got to lend a guide from her and got many great tips on local crags not yet so well known. The van worked perfect. We had everything we needed. It was easy finding water for dishes and washing since there were a tap in the little village. We had a second car that we rented in Alicante to get to Valencia and it was cheeper keeping it than leaving it in Valencia. That was good because we needed it for all of our gear. The van would be perfect for climbing trip going to all of Costa Blancas nice crags. I can highly recommend renting a van with Vanyou!

Louise
July 2014 I had the opportunity to enjoy one of the Vanyou campervans. It provided me with a very unique means by which to explore the Spanish countryside and I would highly recommend it to anyone traveling to the Valencia region!

Breton
I can highly recommend renting a Van from Vanyou! It's a superb experience to travel around in the Van and it's got everything you could possibly need for a few days of endless freedom. The vans are new T6 models, easy to drive, fuel efficient and comfortable. Communicating with the company, booking, renting and returning the Van were quick and easy (thanks for the excellent service David :D). The company is trustworthy, reliable and very well organized. Big thumbs up!!!

Janina
Exploring and discovering Mallorca with the Van was a great and unforgettable experience. I would do it again any time! The help and support from Laura and Dave were exceptional. Very friendly and always doing their best. Muchísimas gracias y hasta luego! :)

Anna Maria
We hired a van with VanYou for a week in Mallorca. David was great, helping us choose the best van for us and giving us tips on places to visit before our holiday. And Laura was great once we arrived in Mallorca. She took the time to show us the van inside out and made sure we had everything we needed before we set off. The van we hired had everything we needed, a really cosy bed, a bottom sheet, a towel, all the kitchen utensils and pans, a camping stove, table, chairs, a portable shower... and there is other optional equipment should you require it. We had a great time touring the island, hiring this van was definitely the best way to do it!

Federica
The vans are in great condition, and you can clearly see everything has been thought through, making the use of all the equipment easy. Communication with David and Laura is also fast and simple, and they are very friendly!

Harold
We had a superb 11 day trip through Andalucía with the apache. The Vanyou Camper was absolutely marvelous and the staff were more than friendly and helpful. Thanks a lot for a fantastic time.

Guido
It was a great trip with VanYou! The van was clean, comfortable and the handling with the owner was super easy. My next trip in Spain, are with these guys again.

Nina
We love this van! It's in perfect condition with everything you will need:) we had an Incredible time discovering Andalusia and the second time Portugal with some surfing! It's unique, you just go wherever you like it!! Belen and Leo take care of everything and you get the van in really good condition directly where you arrive! Also private recomondations are included any time you need them! We just highly recommend and looking forward to come back!

Katha
Great opportunity to explore Andalusia with a very helpful and experienced spanish team. The van was nearly new and fully equipted and offered enough space for two people. We got lots of additional informations about the region and Belén was all the time accessible if we had any question. 100 prozent recommendable.

Christine
---
Any queries ?
Ask us !