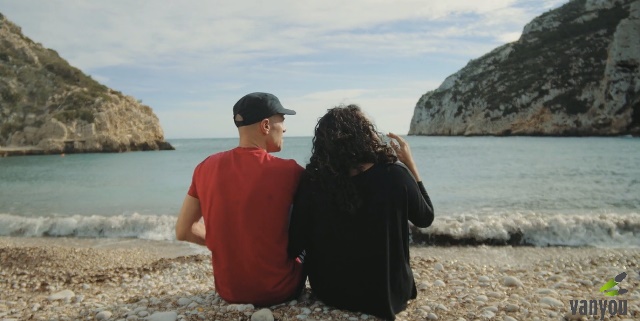 Join us in a Vanyou to explore every corner of the Costa Blanca. We will enjoy its beaches, but we will also go on excursions, and we will take you aboard our van to magical spots. Let's start with Poble Nou de Benitatxell!
Key points
Distance from Valencia: 120 km - 1:30 h
Best time of year: any season, but to enjoy bathing better in spring and summer
Recommended length of stay: 2 days
For overnight: park4night, Cala del Moraig car park
You will find this small village just 1 hour and 30 minutes from Valencia, where the cove par excellence is located: we are referring to the Moraig cove. Cliffs, unique views and spectacular sunrises are not to be missed - you really must get to know this little piece of the Costa Blanca.
Despite the construction of the hundreds of chalets on residential estates that have spoiled its beauty, Poble Nou de Benitatxell has the privilege of being located in a charming setting on the Costa Blanca. You will certainly enjoy your two-day stay. But if you have more time, you can include a visit to towns as close as Xàbia, Dénia, Moraira, Benissa, Calpe or Altea, among others.
The Costa Blanca is the tourist name that the Mediterranean coast of the province of Alicante is known by. Situated between the towns of Dénia and Pilar de la Horadada, it has 244 km of sandy beaches, beautiful coves and spectacular cliffs. The towns that compose it are the following: Dénia, Xàbia, Poble Nou de Benitatxell, Teulada-Moraira, Benissa, Calpe, Altea, Alfàs del Pi, Benidorm, Finestrat, La Vila Joiosa, Campello, Alacant, Elx, Sant Pola, Guardamar del Segura, Torrevella, Orihuela Costa and Pila de la Horadada.
Poble Nou de Benitatxell borders Xàbia to the north and Teulada-Moraira to the south. What can you do here? You can enjoy the sunshine in its coves, go scuba diving and snorkeling, swim in the sea, go kayaking along its coast, go hiking, biking, rock climbing and BASE jumping. It is essential that you do not forget to include diving goggles, a snorkel tube and rock-climbing shoes in your luggage.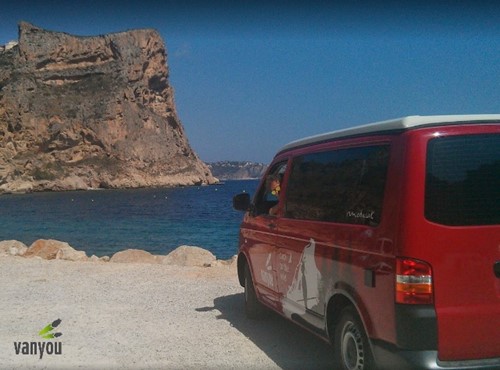 Let's discover its coves. Since Poble Nou de Benitatxell is surrounded by cliffs, it is only possible to reach these coves from land. From north to south we find the following:
 La Cala dels Testos: it is located at the foot of Morro Falquí, an imposing rock wall. This isolated cove can only be reached after a walk, by swimming or by boat, which makes it a unique spot. Due to its inaccessibility, we do not recommend visiting this cove by land for all members of the public, but we will explain how to get there below. You can also get there by swimming from the Cala del Moraig, although keep in mind that the only path there is already about 400 meters long. There are no services in the cove, so don't forget to bring everything you need with you.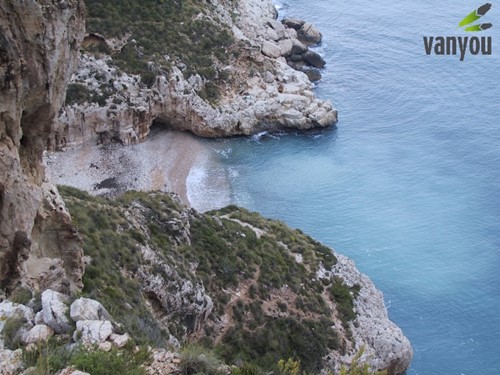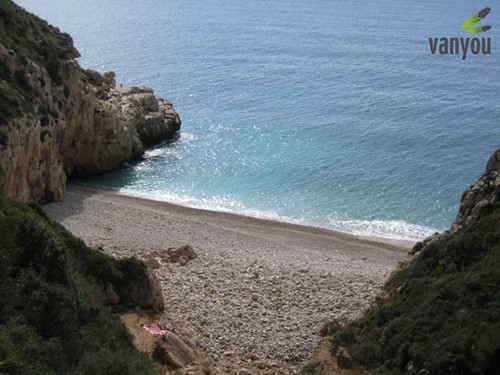 Cala del Moraig: the first time we visited this cove, Google Maps did not exist and it was really difficult to find. To get there you have to go through a tangle of built-up streets and this is where you come face to face with the horrors of brick and concrete. But when you arrive and you have the cove before you, you are speechless. So when you discover it you will know what we are talking about. La Cala del Moraig is a pebble beach, flanked to the north by Morro Falquí, and to the south by Cova del Arcs, famous for the upwelling of fresh water and the expert divers who enter it. It has a car park in the upper part and another in the cove itself. The force of the waves during storms has made this parking lot disappear more than once.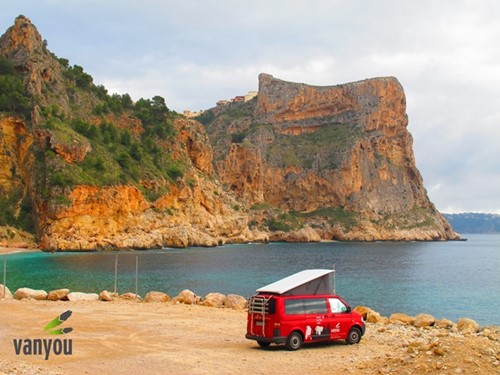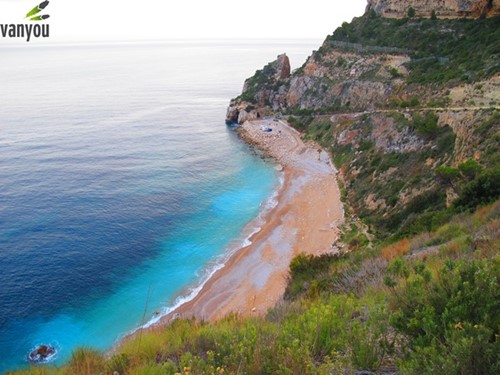 Cala del Llebeig: another cove that is only accessible on foot, which offers the advantage of having few visitors. This cove is also another wonderful spot where there are hardly any fishermen's houses. Do not forget to bring water, sunscreen and appropriate footwear, since in this cove there are no services of any kind.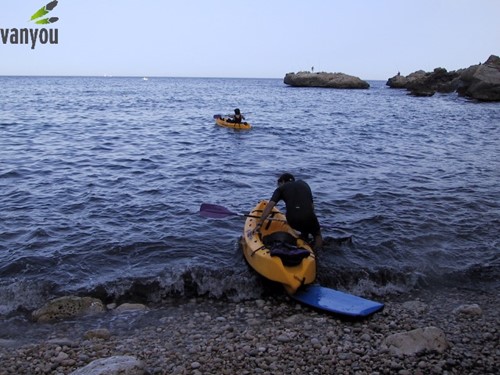 Excursions:
 

Excursion to Cala dels Testos: as we mentioned above, to get to this cove there is a route of about 30 minutes each way, a distance of around 500 metres including steep slopes. It is not suitable for everyone, since to go down into the Barranc de l´Infern there are three vertical steps where you need the help of some fixed ropes. You should also take this into account when returning to the car park. Before reaching Cala dels Testos you can go to Cova dels Testos and enjoy incredible views.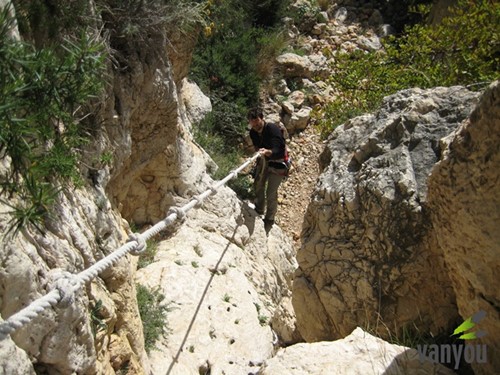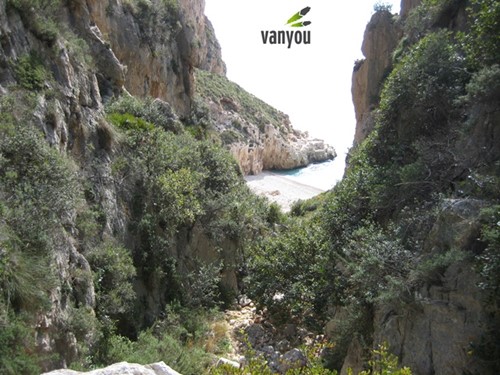 SL-50 cliff route, between Cala del Moraig and Cala del Llebeig: this is a straight path, you can start off from either of the two sites. The car park in the Llebeig cove is smaller than in Moraig. It will take you about 2 hours to cover the two kilometre long path there and back. We do not recommend it to all members of the public either. For those who do go, you must take particular care in some sections and make sure you have water and appropriate footwear. Along the route you will pass caves where fishermen and farmers used to take refuge, and enjoy beautiful views.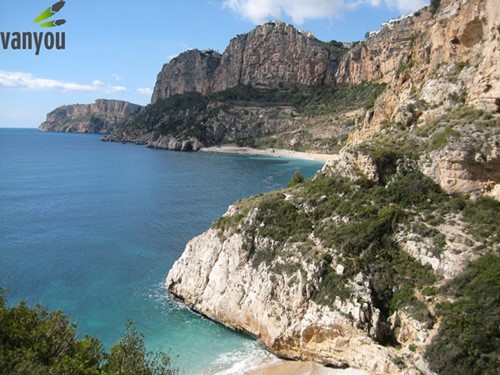 The Cova dels Arcs, the Falla del Moraig, the Vasenilla: in Cala del Moraig you can admire the Cova dels Arcs. On calm days from inside you can see how rays of light enter through its arches. The cave has an opening at the top and, bordering to the south, a small path will take you to the Falla del Moraig, an almost vertical cut in the rock that allows light to pass through a cave accessible only from the sea, the gateway to the underwater entrance to the Riu Blanc. A few metres from the fault you will find the Vasenilla, a circular shaped sinkhole with vertical walls that communicates with the sea. This short 300 metre route is not too difficult and will take you about 30 minutes.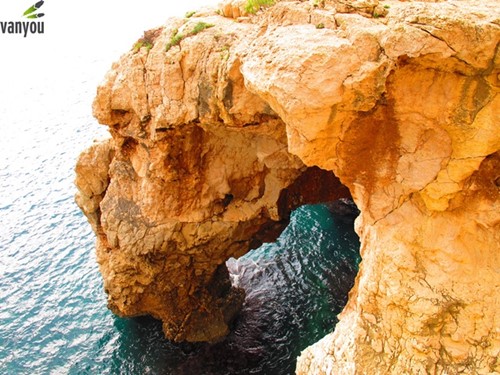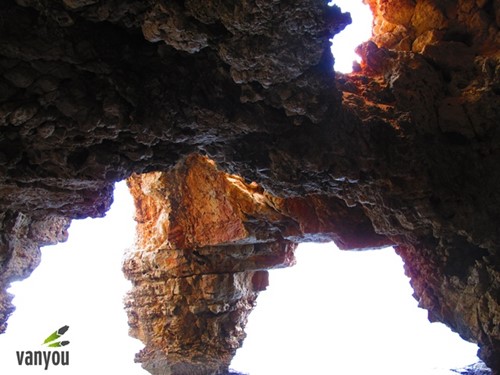 Climbing: in Morro Falquí is the famous 170-meter climbing route, Via Sonjannika 6ª +, we can give you detailed information. Climbing here will not leave you indifferent, the environment is unique.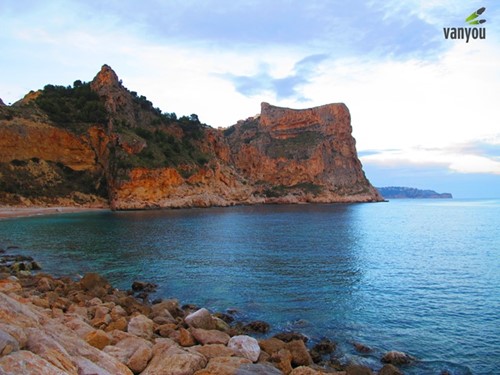 Viewpoints:
Viewpoint over Cala del Moraig (located at the end of Hernán Cortés street).

Viewpoint between the Cala dels Testos and Moraig, from the upper parking lot of the Cala del Moraig, on foot you can reach two roundabouts which allow you a good view.

Viewpoint of the cliffs or Morro del Bou.

Cala del Llebeig viewpoint (accessible on foot from the cliff route)

Cim del Puig Llorença, the emblematic mountain of Poble Nou de Benitatxell, famous because stages of the cycling tour of Spain sometimes end here. From its top you can see among others the Penyal d´Ifac and, sometimes, Ibiza.

Viewpoint of the Poble de Poble Nou in Benitatxell
 Of cultural interest we highlight:
 

A visit to the old town centre.

The Riuraus (ancient structures to store dried grapes).

Pous de l´Albiar, a network of underground wells and reservoirs of possibly Arab origin.
 To spend the night: Unfortunately, there are currently no camper areas or camping sites in the area. Ask us and we will give you information.
 We can also suggest other places to park
 We ask you please, as always, to be respectful of the environment you visit, do not leave a trace, take all the waste you generate.
 We wanted to summarize what we believe is essential in your visit to the Poble Nou de Benitatxell, but obviously there is more. So find out and tell us about it on the way back!
 Be sure to visit this little piece of the Costa Blanca and what better way to do it than with your Vanyou